*FlooringExpertUSA.com Reviewed Company*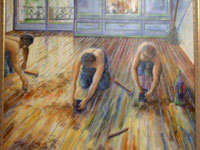 Hardwood Refinishers and Installation
P.O. Box 42
Rockford, TN 37853
Company Overview
Hardwood Refinishers was born of humble beginnings. Growing from a homeowner necessity to making refinishing and installations for all customers a more affordable experience since 1998..
Contact Name
Wrenzo Thompson
Phone Number
(865) 405-2310
Email
HardwoodRefinishers@charter.net
Web Site
http://www.hardwoodrefinishers.com
Type of Flooring Company
Hardwood Refinishers has the experience to install all types of wood flooring. From solids; to engineered; to laminates over all types of sub flooring whether its glue down over concrete or nail down over plywood. We also install Tile and Natural stone as well.
Detailed Business Description
I began refinishing hardwood because frankly I did not have the money to pay someone thousands of dollars to refinish the floors in my first home. It was an old Mission style home that I named "Eleanor". She was beautiful to me but the hardwood floors were in bad shape. I called in a professional refinisher to give me an estimate. The number he gave me was so out of the park, I decided right then to do them myself. Had I ever done floors before - Nope!
How did they turn out – well lets just say they were my first floors. I did however, get compliments on them and I also stained patterns onto the floors. Best of all, I saved myself thousands. Several floors later my friends began asking me to do their floors and I realized there was a need that should be filled. Everyone should be able to have beautiful floors at affordable prices. So I started a Hardwood Refinishing business offering a good service at a great price and 10 years later, here I am.
Are there more expensive companies out there - of course!
Can everyone afford them or do they offer better service - Of course not.
My promise to you is that I will treat your floors as if they are my own. My references agree!
Products and Brands
Prefinished and Unfinished wood of all species. Site finishing with both Water base products and Oil base products. Proudly using Minwax stains. Tile selection by Dal Tile.
License and Insurance Information
Licensed and Insured for over $1 million in General Liability and also carrying Workers Comp.
Service Area
East Tennessee and parts of Middle Tennessee
Photos