*FlooringExpertUSA.com Reviewed Company*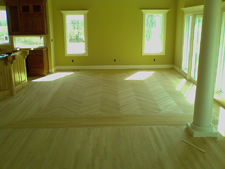 SandMasters Pro Floor Care LLC
714 NE Twiss Ave
Topeka, KS 66616
Company Overview
SandMasters Pro Floor Cares Goal is to Provide the Best Service Available in Craftsmanship, Cleanliness, and Customer Satisfaction. In addition to Standard Installation and Refinishing, SandMasters Provides Hardwood Deep Cleaning Services.
Contact Name
Jeremy Bryant
Phone Number
(785) 580-3170
Email
jbryant@sandmasters.net
Web Site
http://www.sandmasters.net
Type of Flooring Company
SandMasters Installs Hardwood and Tile Flooring, Sands and Finishes All Types of Hardwood Using State of the Art Dust Containment, and Provides Deep Cleaning and Maintenance of Hardwood and Tile Flooring. Ask About our New Sandless Recoating System!!
Detailed Business Description
We Pride ourselves in Staying at the Leading Edge of Advancements in the Flooring Industry. We Use only the Highest Quality Waterbased Finishes. Dust Containment is a Standard, not an Upgrade at SandMasters. We Provide Deep Cleaning and Maintenance Programs to Keep Your Floors Looking There Best. Recently SandMasters has Introduced our Sandless Refinishing Line. Find out More at www.sandmasters.net
Products and Brands
Basic Coatings, Hallmark Engineered Wood, Century Pefinish. .
License and Insurance Information
Fully Insured for Your Protection
Awards, Certifications and Memberships
Member National Wood Flooring Association
Service Area
Topeka, KS and Surrounding Areas To Include Kansas City, Manhattan, and Lawerence
Photos