*FlooringExpertUSA.com Reviewed Company*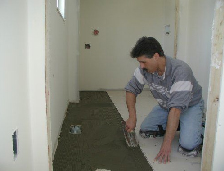 Dan's Floor Store
22 Pleasant Street
Concord, NH 03301
Company Overview
Dan's Floor Store is a full service family owned flooring company serving New Hampshire. Visit our showrooms in Concord, NH as well as Londonderry, NH.
Contact Name
Dan Barden
Phone Number
(603) 432-8067
Web Site
http://www.dansfloorstore.com/
Type of Flooring Company
Dan's Floor Store is services all types of flooring including: vinyl, carpet, tile, hardwood, stone, laminate and area rugs. We also have blinds, shades and countertops!
Detailed Business Description
Our mission is to provide customers with personal service from a family owned store. We strive to give our customers the most simple and pleasurable purchasing experience and the highest quality of products and installation available today. Priding ourselves on attention to detail, our desire is to deliver this quality and service along with state of the art, cutting edge flooring design provided by our staff designers.
Products and Brands
A few of our popular brands: Congoluem, Mohawk Carpet, Shaw Carpets, Philadelphia Carpets, Marazzi Tile, Crossfill, Marble, Limestone, Mirage Floors, Hoboken Floors, VersaLock Laminate, Shaw SilentStep and Upofloor.
License and Insurance Information
Unknown - NH does not require license for flooring
Awards, Certifications and Memberships
National Wood Flooring Association, National Tile Contractors Association, Certified Floor Covering Installers, Member of BBB
Service Area
We have 3 locations - two are located in Londonderry, NH and one in Concord, NH. We can service most of New Hampshire.
Photos